Established 1986
The concept of SHHOFI was first considered during the annual meeting of the Veterans of Safety (VOS) in 1984.
The overall objective was to develop an organization that could provide a living legacy for outstanding safety and health professionals who have given unselfishly to freeing the world of recognized hazards. During the discussion, an ad hoc committee was appointed for the purpose of furthering that concept and to determine an appropriate site for housing a "Hall of Fame." After much research and further discussions the ad hoc committee recommended Central Missouri State University (CMSU) (now University of Central Missouri (UCM) 2006) as the home for SHHOFI. During January 7-9, 1986 a meeting of VOS, CMSU and Civic Leaders was held in Warrensburg, MO to begin preparation for a formal agreement to establish SHHOFI at CMSU. On March 26, 1986, the agreement was signed and SHHOFI was officially established. Work began on establishing SHHOFI as a working organization. Bylaws were developed, circulated and revised. During October 1986, the bylaws were approved. The introductory sections on the bylaws spelled out SHHOFI's mission, purpose and size.
Recognition of individuals and organizations who have contributed significantly to the field of safety and health, as set forth in the guidelines established by the governing bodies provided herein;
A resource location and permanent physical facility for significant (milestone) events impacting the safety and health profession/activities/programs;
A location for ceremonial and other associated events;
A depository for relevant documents, artifacts and memorabilia;
A location for the preservation and display of safety and health instruments, devices and equipment.
SHHOFI was organized to provide participation from organizations having a vested interest in safety and health and/or concerns with the elimination of recognized hazards. Those organizations willing to serve as a cooperating organization could designate a representative for the governing council, which in turn elected from that membership, a Board of Governors. The Board of Governors was empowered to employ an Executive Director (SHHOFI was guided by VOS Executive Director Dr. Bob Baldwin) to perform ongoing tasks on a day-by-day basis and also to provide expertise for actions requested or planned by the Board of Governors and the Governing Council. From that structure, committees were formed to provide action in each of the organization's business. Central to SHHOFI's mission was the Selection Committee, which developed the format and process to be utilized in the selection of nominated candidates for induction in to the Safety and Health Hall of Fame International.
In October 1987 the first "Class" of six individuals was inducted in Chicago during the National Safety Council (NSC) Congress and Exposition. From 1987 through 1996 SHHOFI remained at CMSU. During that period 52 individuals were inducted. SHHOFI was born of an idea promulgated by the Veterans of Safety. VOS obtained the cooperation of fourteen charter member organizations, a commitment from CMSU to house SHHOFI and to provide monetary support (CMSU Staff and student volunteers) for on campus leadership and administrative program activities.
A study and plan was put together on how to raise funds to pay SHHOFI's share (7.6 million) of the construction costs for the building that would house SHHOFI. Fund raising was attempted on a number of different fronts. All of these attempts were unsuccessful. Note: VOS Hawaii Chapter ran an annual golf tournament that helped fund Hall of Fame Ceremonies for over 10 years.
A plan was formulated with the president of VOS (Dan Paine), the president of SHHOFI (Patrick J. Conroy) and the new president of the National Safety Council (NSC) (Jerry Scannell) to move SHHOFI to the NSC in Itasca, IL. On June 14, 1996, the three presidents along with CMSU leadership signed the documents to officially move SHHOFI to the NSC. After the October 1996 SHHOFI induction ceremony in Chicago, SHHOFI became part of the NSC. It should be noted that when this move was made VOS maintained three Board of Director positions on the SHHOFI board, which was part of the VOS/SHHOFI/NSC negotiated transfer contract.
After four years, SHHOFI was again moved to Hillside, IL (2000) and housed in the same building as the Construction Safety Council (CSC). VOS again maintained three board positions after this move. CSC staff as non-paid volunteers handled administration of SHHOFI in an outstanding manner. SHHOFI owes a debt of gratitude to Tom and Sharon Broderick, Gayla Hurson and Beverlee Alberico.
As funding became a problem due to the recession, the last induction ceremony was in 2008. SHHFOI has inducted 70 individuals. The list of inductees can be found below on this web page.
All SHHOFI plaques, memorabilia, historical documents and a small amount of funds are maintained in the greater Chicago area.
Attempts to engage larger Safety and Health organizations to assume control of SHHOFI were not successful.
During the VOS Board meeting on May 19, 2016 an in depth discussion was held concerning SHHOFI, e.g., options, logistics, expenses, administrative requirements and the long term impact of SHHOFI returning to the VOS family. A few new ideas were also discussed that could help keep SHHOFI a viable operation. This conversation was tabled to allow for contemplation by all VOS Board Members.
VOS President, Mark Rater reminded VOS Board Members that Article II, Section I of the VOS bylaws notes the purpose of VOS is "To work toward the establishment of a living legacy that will pay homage to those Safety and Health Professionals who gave unselfishly, so that one day all persons will enjoy life that is free of recognized hazards."
During the June 2016 VOS Board Meeting the Board voted unanimously to assume administrative, financial and historical responsibility for SHHOFI.
SHHOFI will be guided by a VOS Board Committee that has begun planning the movement of all SHHOFI Plaques, historical documents and financial and administrative documents to a central location. Further, discussions are being pursued concerning a permanent home for SHHOFI.
Patrick J. Conroy, OHST, CHST
SHHOFI President (1994 – 1996) (2000 to present)
Past President VOS (1993-1994)
---

Inductees
Inductee
Category
Nominating Organization/Person
1987
Dr. John Grimaldi
Safety Management
American Society of Safety Engineers
Dr. William Haddon Jr.
Accident Research
Insurance Institute for Highway Safety
Dr. Norman Key
Safety Education
Central Missouri State University
Dr. John Lane
Transportation Safety
Association for the Advancement of Automotive Medicine
Dr. Ernest Mastromatteo
Industrial Safety
Construction Safety Association of Ontario
Honorable Howard Pyle
Safety & Health Administration
National Safety Council
1988
Frank Bird Jr.
Loss Control
Veterans of Safety
Robert Borkenstein
Forensic Sciences
Central Missouri State University
James Economos
Traffic Courts
American Bar Association/Alliance for Traffic Safety
James Newman
Biomechanics of Trauma
Construction Safety Association of Ontario
1989
Dr. Richard Bishop
Traffic and Transportation Safety American Driver and Traffic Education Association
Nils Bohlin
Three-Point Safety Restraint System
Alliance for Traffic Safety
Lawrence Corney
Development of the Safety Profession in the United Kingdom
Institute of Occupational Safety and Health-England
Jerome Lederer
Flight and Space Safety
National Safety Management Society
Cecil Zaun
School Safety Education
American Academy of Safety Education
1990
David Curley
Safety Engineering and Leadership
National Safety Council
Hugh DeHaven
Crashworthiness
Central Missouri State University
Louis Morony
Traffic Safety Law
Alliance for Traffic Safety
William Pope
Safety Management Systems
National Safety Management Systems
Dr. Herbert Stack
Safety Education
American Academy of Safety Education
Dr. William Tarrants
Safety Professional Certification & Research
Veterans of Safety
1991
William Franey
Uniform Traffic Safety, Codes, Standards and Enforcement
Alliance for Traffic Safety
Dr. Earl Heath
Occupational Safety and Health Education and Training
Veterans of Safety
George Smith
Occupational Safety and Health, Related to Labor
National Safety Council
Dr. John Paul Stapp
Safety Research
Flight Safety Foundation
1992
Stanley Abercrombie
Safety Education
American Academy of Safety Education
Dr. Alice Hamilton
Industrial Medicine
Central Missouri State University
Dr. Robert Kirk
Safety Education and Research
Warrensburg Chamber of Commerce
Fred Manuele
Safety Engineering and Leadership
National Safety Council
Thomas Seals
Traffic Safety Education
American Driver and Traffic Safety Education Association
1993
Dr. Ing Peter Compes
Industrial Safety Research and Education
Flight Safety Foundation
Elizabeth Dole
Transportation and Workplace Safety
Association for the Advancement of Health Education/American Alliance for Health, Physical Education, Recreation and Dance
Dr. Henry Heimlich
Medical and Lifesaving Techniques
Central Missouri State University
Herbert Heinrich
Safety Engineering
Warrensburg Chamber of Commerce
William Mottel
Occupational Safety and Health
National Safety Council
Leonard Ring
Human Factors/Ergonomics
Veterans of Safety
Dr. Richard Snyder
Education and Scientific Research in Physical Anthropology
Missouri Safety Council
1994
Dr. Theodore Feny
Aviation Safety-Ground and Air
Central] Missouri State University
Dr. John Havard
Health and Safety
Safety Council of the Ozarks
General Franklin Kreml
Law Enforcement
Veterans of Safety
Honorable Gerard F. Scannell
Safety Management
National Safety Council
Roberto Scaringella
Traffic Safety
Missouri Safety Council
1995
Dr. Morris Chafetz
Fulfillment of Life through Participation and Moderation in Positive Life Activities
Safety Council of the Ozarks
H.J. Matthysen
Industrial Safety
Warrensburg Chamber of Commerce
Dr. Bernardino Ramazzini
Occupational Medicine
City of Warrensburg
James Tye
Industrial Safety Management
British Safety Council
1996
Lewis Deblois
Safety Management in Industry
National Safety Council
Dr. Innagene Holloway
Safety Education in Secondary/Higher Education and Industry
American Academy of Safety Education
Charles Miller
Inter-Disciplinary and Systems Approach to Accident Prevention
Flight Safety Foundation
Leonard Sylvester
Research and Program Implementation for Construction
Construction Safety Association of Ontario
D.A. Weaver
Research, Teaching and Publications of Accident Prevention
Veterans of Safety
1997
Irving Selikoff
Medical Research Related to Occupational Health Effects
Construction Safety Association of Ontario
Don Buck
Traffic Safety
Veterans of Safety
Sir Allan St. John Holt
Safety Management and Education
Missouri Driver and Safety Education Association
John Millar
Occupational and Environmental Health
National Safety Council
Dan Petersen
Behavioral Approach to Safety
D.A. Weaver
1998
Robert L. Marshall
Safety Education
Academy of Safety Education
1999
Franklin E. Mirer
Safety in the Workplace
International Union
A.J. Scardino
Industrial Safety
Veterans of Safety
2000
Alfred C. Blackman
Safety Engineering and Safety Management
Hazards, Limited
Franklin C. Haering
Education and Public Safety
Maryland-National Capital Park and Plan Commission
2001
James W. Brinkley
Aviation and Aerospace Safety
U.S. Dept. of Transportation
Soun-shik Chang
Industrial Safety and Health
Korean Occupational Safety and Health Administration
Daniel E. Della-Giustina
Safety Education
West Virginia University
2002
Dr. Im Goung Yun
Coal Mining Health
Korean Industrial Health Association
George Swartz
Industrial Safety
Fred Manuele
2003
Roger L. Brauer, Ph.D.
Safety Professional Certification
The Board of Certified Safety Professionals
Safety and Health for Engineers
2004/2005
Mr. Joseph M. Kaplan
Highway Safety With an Emphasis on Seat Belts
National Safety Council
Dr. John H. Olson
Safety Engineering and Ergonomics
Construction Safety Council
2008
David V. Maccollum, PE
Construction Safety Management
Construction Safety Council
Roll Over Bars for Heavy Equipment
---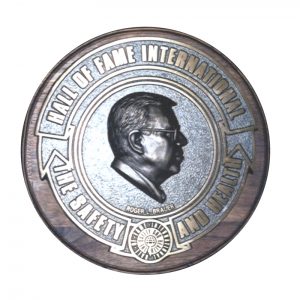 ---
SHHOFI Photo Gallery